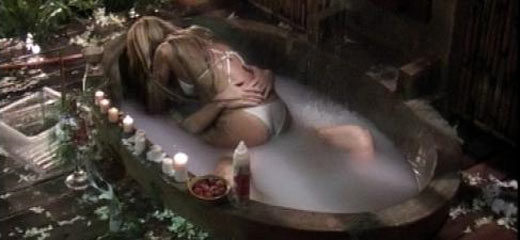 Video snimak seksa u kući hrvatskog "Velikog Brata" i to bez pokrivača, u toploj kupki.
Po prvi put na ovim prostorima od kako postoji "Veliki Brat", ili "Big Brother" u originalu, da su učesnik i učesnica imali polni odnos pred kamerama, a da to nije bilo u krevetu, ispod ćebeta. Glavni učesnici u ovom događaju su bili Ivan i Rina, koji već neko vreme traže dobar momenat za seks. Taj momenat su dočekali kada im je "Veliki Brat" dao alkohol i napravio žurku u rimskom stilu sa sve toplom kupkom.


Ova neodoljiva atmosfera ponela je ovo dvoje mladih učesnika i sve ostalo su kamere zabeležile. Posle toga svi ostali ukućani su komentarisali ovaj nesvakidašnji događaj što se po Rininom osmehu dalo zaključiti da joj je bilo lepo i da joj ne smetaju ogovaranja. Čak su posle Rina, Lucia i Ornela tražile od "Velikog Brata" i vibrator, jer kako kažu - Muškarci su u kući BB neupotrebljivi.
Podeli na Facebooku
Stavovi izneti u komentarima su privatno mišljenje njihovih autora, a ne redakcije portala i portal nije odgovoran za sadržaj komentara.
Prikaži/Sakrij formu za unos